Kubota 05 Series Diesel Engine
The Kubota O5 Series features vertical, water-cooled, 4-cycle diesel engines (3 or 4 Cylinders) with a capacity of 17.4HP-36.4HP at 3000RPM. Best in its class, the Kubota's 05 Series is the industries leading range and the preferred power source of many industrial equipment manufacturers including automotive, power companies and material handling companies.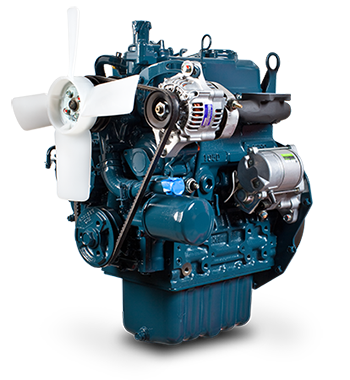 Engine Description
Emission
Kubota 05 Series, complies with EPA Tier 4 emission regulations. These are the most stringent emissions regulations in the world in this class. Kubota engine less than 19kW meets emission standards over the NRTC and also meets the NTE requirements.
Durable Power
The Kubota 05 Series offers seamless transition from E3 to E4 by maintaining the same footprint and hardware mounting points. This engine is available both at 17kW @ 3000rpm and 18.5kW @ 3200rpm.
Option
A variety  of engine accessory options is also available.
Kubota 05 Series

Engíne Model
Gross Intermittent 
Maximum Speed
Cylinders
Combustion / Instake System
Emission Regulation
kW / HP
rpm
D1005-E4B
17.5 / 23.5
3000
3
IDI / Naturally Aspirated
Tier 4
D1005-E4B
18.5 / 24.8
3200
3
IDI / Naturally Aspirated
Tier 4
D1105-E4B
18.5 / 24.8
3000
3
IDI / Naturally Aspirated
Tier 4
D1305-E4B
18.5 / 24.8
2600
3
IDI / Naturally Aspirated
Tier 4
V1505-E4B
18.5 / 24.8
2300
4
IDI / Naturally Aspirated
Tier 4